"Every Little Work I've done has been helping with my pets to create the new series, Sky Rat."
— Craig Bartlett At ComicCon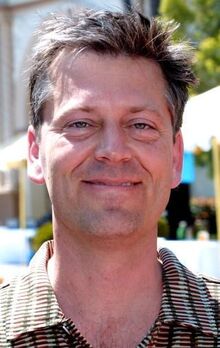 Craig Michael Bartlett (born October 18, 1956) is an American animator, best known for making the hit comedy show Hey Arnold! and for being a writer for Rugrats. He currently works on many projects, including the upcoming animated series Big City Pets, its spin-off I Am Possum, and Frog and Toad (based on the childrens' books of the same name), which are produced by himself.
Hey Arnold!
Hey Arnold! is the most well-known series made by him and one of the best Nicktoons, so far. When Craig first made Hey Arnold, he was surprised how he made 5 seasons. Hey Arnold was a success in 2001-2005 and is one of the meet series on Nicktoons. As of now, Hey Arnold is being sold with productions as it is popular. Craig got ideas from the series to make Sky Rat, but it's renamed to Big City Pets.
Trivia
He did Hey Arnold.
He is the creator, writer, and storyboard artist of Big City Pets and I Am Possum.